Billing Software For Retail Shop
There is a considerable movement of the products in retail shops – from inventory to the display racks, from the shelves to the billing desk, the floating is continuous. In such a scenario, providing manual bills or using difficult to use software would lead to an inefficient billing process. Moreover, the slow billing time and incorrect pricing frustrate the customer and ruin your brand image. 
Having retail billing software in place is critical in today's competitive environment, where buyers change the retailers in no time. The software helps retail businesses have a streamlined billing process, provides accurate invoice generation, enables faster billing, reduces checkout times and improves the overall business performance and efficiency. 
myBillBook offers a comprehensive billing solution that empowers retail businesses in conducting their business with much ease and efficiency. Listed below are the features offered by the billing software, along with the benefits the retail stores can reap from deploying the software at their storefront.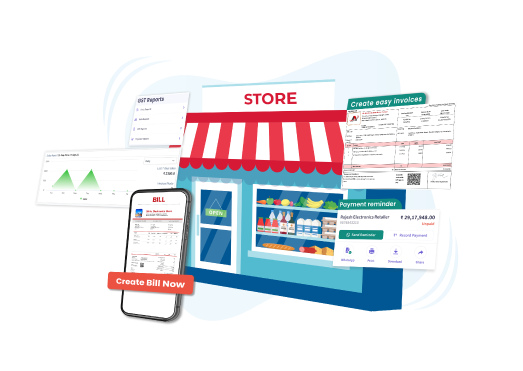 Easy to use tool
myBillBooks' billing software is designed so that even an entry-level employee can use it in the absence of the cashier or other designated personnel. You don't require any formal training to use the tool, except for a simple demo that our sales executives would provide at your request. In addition, if you need any further assistance, you can connect to us through Whatsapp or our customer support number any time.
Speed and Accurate Billing
Generating invoices using the billing software improves the time of billing and enhances its quality by making them error-free. It also helps you in GST calculations and submissions.
Integrated Accounting
As the billing software is integrated with the accounting software, all the details related to the billing are automated. Your stock details, accounts receivable, payable, etc., will be auto-updated in the accounting software, making it easy for you to manage your business accounts.
Better Inventory Management
As the inventory gets updated with the latest stock details, the chance of understock or overstock situations is less likely to happen. You can never let go of a customer because of not having a particular product.
Know your business from anywhere
With myBillBooks' retail shops ' billing software, you don't have to be at the store to know what's happening. You can simply download the app on both mobile and desktop to access the information anywhere. Just use the same login credentials in all the devices, and the data gets synced automatically between them.
Affordable Pricing
If you're getting all the features mentioned above and benefits at a highly competitive market price, don't you think myBillBook's billing software is one of the best-priced software in the industry? Yes, the basic plan offered by the software starts at as low as INR 142 per month. The plan allows the addition of 2 businesses, access to 3 users on both mobile and PC.
Benefits of myBillBooks' Billing Software for Retail Shops
myBillBook's Billing Software offers the following features to help retail shops conduct their business efficiently.
GST/non-GST Invoice Generation
To support all the GST and non-GST-complaint businesses, myBillBook offers invoicing feature that produces both GST and non-GST invoices. While generating GST invoices, you don't have to add the tax manually. Instead, simply enter the tax percentage related to your products once. Then, the software would automatically divide it into CGST, SGST & IGST. 
In case you need a non-GST invoice, you can simply select the 'Without Tax' option to create a bill without GST. 
Customised Invoices
Not all retail shops require the same kind of invoice. To allow businesses to generate customised invoices, myBillBook provides an option to choose different fonts, colours, add brand logos, headers, custom fields, a signature box, etc. Customised invoices help you represent your brand image while looking professional to your customers. 
Further, you can also share your invoices on the phone through SMS or Whatsapp. You can get any pending payments faster by sending invoices over the phone.
Items Library of 1 Lakh+ product
Easily create an inventory using our preloaded products from various categories. You can also upload an excel file directly to our billing software to add all your products in bulk. If you're migrating from other billing software, you will find an option to import the data from the previous software to myBillBook with a few clicks. 
Retail POS Billing
The Retail POS Billing feature is like a boon to your business if you are a retail shop. You can create invoices in less than a minute and have fewer queues at the counters. The POS billing feature also allows a multi-billing facility that enables multiple bill creation simultaneously. You can also have an option of either bar code scanning or manual entry of products without entering the party details.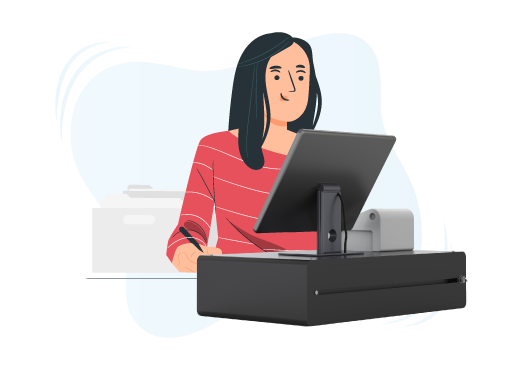 Create different sales orders
Businesses can also create various sales orders using the billing software, not just sales invoices. For example, you can create sales quotations, estimates, and proforma invoices in easy steps. Interestingly, once your customers agree to your estimate, you can convert the same into a sales invoice with just a click. 
Open Your Online Store
Take your retail business online by opening your online store using myBillBooks' billing software application. By enabling the online store option on the software, you can start your online business. Promote your store by sharing your online store link with your customers through Whatsapp and Facebook. Take orders online and grow your business 2X faster.
You can also send promotional messages on discounts, offers, sales, festive offers, etc., using the software directly to your customers.
FAQs on Billing Software for Retail Shops
What is retail billing software?
Retail billing software helps businesses create customised invoices and enables faster billing. In addition, it further streamlines the entire billing process and integrates it with other business processes like inventory management, accounting, stocks, etc.
Why do retail stores require billing software?
Retail stores have a fast turnaround of products. Recording every sale manually is a big hassle and decreases business efficiency in time and cost. With a minimal cost per year, if a retail business can have billing software in place, it can streamline the entire billing, helps in inventory management, makes accounting easier, improve customer satisfaction, and finally, the brand image.
Which retail businesses can use myBillBooks retail billing software?
Most retail businesses can use the billing software without any limitations. Some of the retail fronts where the software could provide optimal benefits include supermarkets, grocery stores, Kirana stores, restaurants, pharmacies, salons, optical shops, garment stores, fruits and vegetable stores, etc.
Can I transfer my data from old billing software to myBillBook billing software?
Yes, myBillBook supports the export of customer and inventory details through images, excel sheets and data from other billing softwares like Vyappar, Marg, Tally, and the like.
Know more about  Billing & Accounting Software for Small Businesses